You need the right solutions to help Australians plan for and live the retirement they deserve. Invest in your client's super, pension and investment needs with one online platform.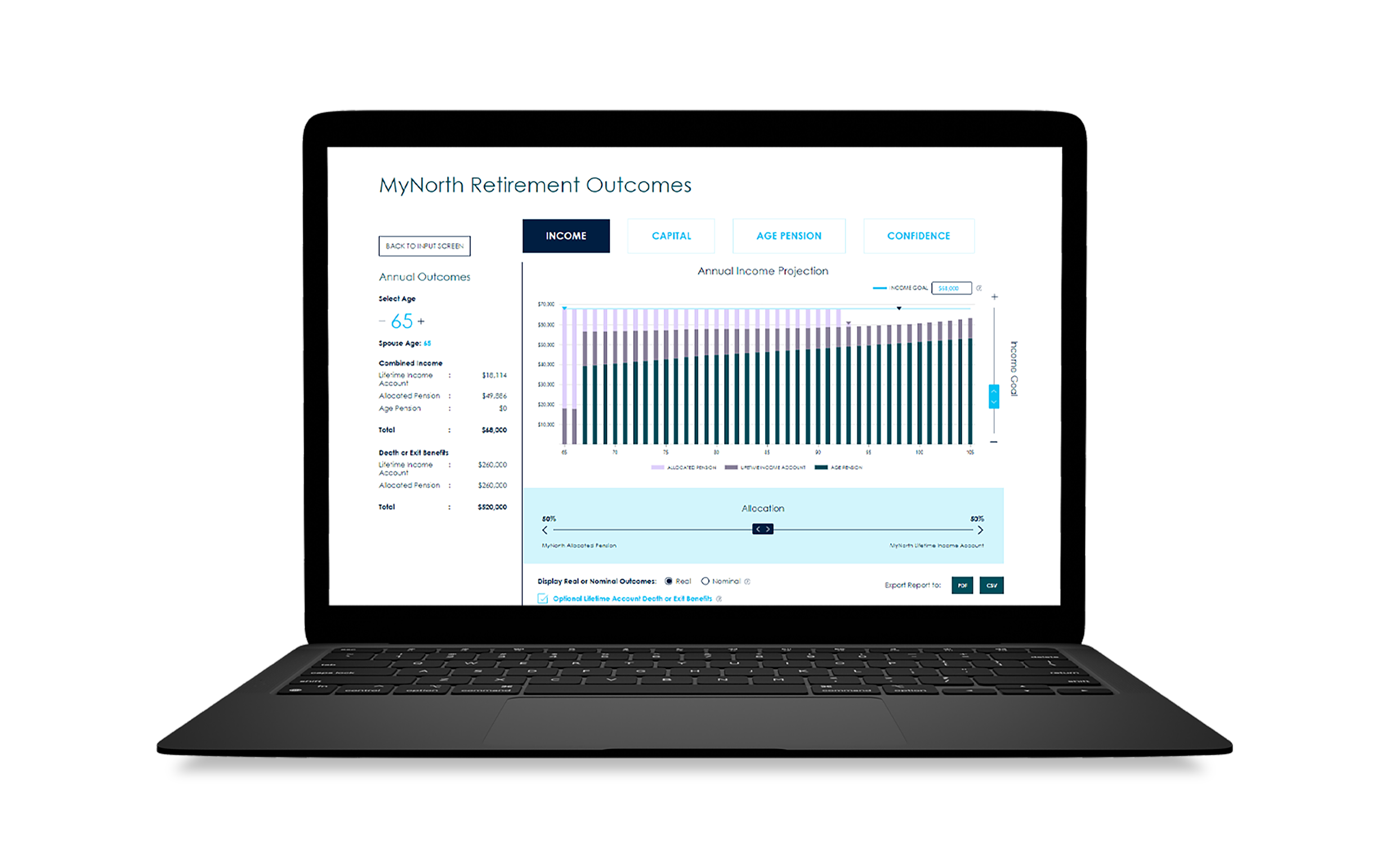 Retirement Modelling Tool
Use our suite of tools to model your clients' income needs based on their capital position. The various tools consider client risk appetite and income levels, and produce investment scenarios within their risk profile.
You can access these tools from North.
MyNorth Lifetime
A first-of-its-kind, award-winning account that allows financial advisers to continually connect with clients and keep control of all important portfolio decisions.

Find out more
Your clients can open a MyNorth Lifetime Super account at any age up to 64 years and ten months. It seamlessly converts to paying lifetime income when they retire.    
This is a market-first retirement income solution that puts you in control of portfolio decisions like investment strategy, asset allocation and security selection.
This account can be opened from age 60, once a member meets a full condition of release. It's the first pension account in Australia that accepts contributions.
Investment choice
Build personalised portfolios with access to managed funds, managed portfolios, Australian equities, Australian listed products, term deposits and cash options. This can help your clients' balance their needs for a regular income and capital growth.
Find out more
MyNorth Guarantees
Safeguard your client's retirement savings from market falls and help them grow their wealth when markets rise, with options to lock in gains annually.
 
Find out more
Insurance
Life, TPD, Income and/or Trauma insurance options available to help provide financial protection for your clients and their family should something ever happen.

Find out more
Annuities
We've teamed up with Challenger to administer three of their annuity products to build retirement solutions for your clients in one place.

Find out more
North. An investment in you.

North Service Centre
Monday to Friday
8:30 am - 7 pm (Sydney time)
Contact a BDM
Contact our team of experts to help you with everything North.
We have business development representatives in every state. 
1 Only Super and Pension account holders can access Trauma Insurance. Trauma Insurance is not available for IDPS account holders.

The information on this page has been provided by NMMT Limited ABN 42 058 835 573, AFSL 234653 (NMMT) and is general in nature. It's for professional adviser use only and must not be distributed or made available to retail clients. A person should consider whether this information is appropriate for them before making any decisions. It's important a person considers their circumstances and reads the relevant product disclosure statement and target market determination, available from northonline.com.au or by contacting the North Service Centre on 1800 667 841, before deciding what's right for them.

You can read the online Financial Services Guide for more information, including the fees and benefits that companies related to NMMT, N.M. Superannuation Pty Limited ABN 31 008 428 322, AFSL 234654 (N.M. Super) and their representatives may receive in relation to products and services provided. You can also ask us for a hard copy. Past performance is no guarantee of future performance. MyNorth Super and Pension is issued by N.M. Super. MyNorth Investment is operated by NMMT. MyNorth Investment Guarantee is issued by National Mutual Funds Management Limited ABN 32 006 787 720, AFS Licence No. 234652. MyNorth is a trademark registered to NMMT.

All information on this website is subject to change without notice.